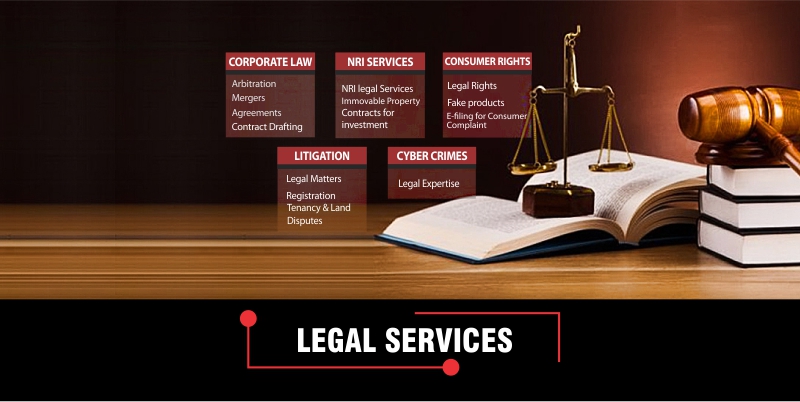 Corporate Law
Litigation
NRI Legal Firm in India
Consumer Rights
Cybercrime and Privacy issues
Attestation and Embassy Legalisation of Documents
Contract Drafting Services
Counterfeiting Legal Action
Corporate Law
Knowledgentia Consultants is well known as an exemplary and one of the Best Corporate Law Firms in India. We provide a host of services for our corporate clients such as consultation services, services relating to contract drafting, reviews and wherever possible advice regarding possibility of resolution of disputes through arbitration mechanisms so as to minimize litigation.
We take care of protecting the interests of our corporate clients and handle all corporate matters in NCLT as well as cases where competitor business adopts fraudulent practices to misuse Intellectual Property of our clients. We have become the Best Litigation firm India by handling conflicts and disputes to protect the rights of employees during employer or employee strife.
We deal with matters and resolve disputes pertaining to RERA Act. We advise our clients on property registration in India, joint ventures, property acquisition as well as risks associated with non-compliance in case of Real Estate projects.
COMPANIES ACT/COMPETITION ACT/ FOREIGN TRADE ACT/ SEBI
Knowledgentia experts have vast experience in handling matters pertaining to all above important corporate legislations making us one of the
top law firms in Delhi
. We advise clients not just locally but all across the globe so they may carry out their activities in conformity with corporate laws in India.
Litigation
We represent our clients in writ petitions, before labour courts, Arbitral Tribunals, Motor Accident Claim Tribunals and other forums Pan India.
We handle matrimonial disputes and assist in executing divorce decrees. We present our clients in writ petitions, before labour courts, Arbitral Tribunals, Motor Accident Claim Tribunals and other forums Pan India. Our experts provide Contract Drafting Services and review arbitration clauses in contracts, execution of arbitral awards and filing petitions of obtaining Succession Certificates as well as Letters of Administration. We also handle suits for injunction against passing off and assist in all disputes relating all kinds of IPR.
We are the Best Law Firm in India which represents our clients before Supreme Court, all High Courts, District Courts in all criminal litigation matters. We draft and review petitions for quashing of FIR, handle criminal complaints, complaints under Section 138 of Negotiable Instruments Act, bail and suspension of sentence applications, fraud and forgery disputes and matters pertaining to Narcotics and Drugs violations as well.
NRI Legal Firm in India
We, Knowledgentia Consultants one of the top law firms in Delhi provide a one stop solution for legal services for NRI in India and are a conducive platform between the Non - Resident Indian or Person of Indian origin regarding their immovable property or contracts for investment in India in startups or ventures. It is an acclaimed NRI legal firm in India. Few areas where we assist our clients include but not limited to: -
We assist NRI's in transfer of their property, partition matters, legal documentation pertaining to buying/selling of property in India. We assist for drafting, review and registration of various documents including Agreement to Sell, Power of Attorney, Agreement to appoint a caretaker, rent agreement and other required documents.
We handle all litigation regarding land & property for NRI's including out of court settlements. Illegal transfer of property, illegal possession, tenancy issues and unauthorized sale of property are few issues where we assist our NRI clients to legally claim their rights and benefit from the said property. We also facilitate the mutation and transfer in revenue records, property tax authorities and other departments as applicable to the type of property.
We, also facilitate the due diligence of property so as to advise clients based in India or NRI regarding the title, encumbrance and devolution of property. This enables them to take a conscious decision regarding their investment in immovable property in India.
Our team makes the Best Litigation firm India which can handle all kinds of litigation for NRI's and we are well connected in many cities across the length and breadth of India which makes it easier for us to support NRI's belonging to different parts of the country.
Consumer Rights
We extend our services for
Counterfeiting legal action
to protect our clients against marketing of goods and services which are hazardous to life & property. Our expert team has been litigating in many forums across the length and breadth of country to protect consumers against unfair trade practices. We provide following services to our clients who are the victims of violation of consumer protection laws: -
CONSUMER ADVISORY SERVICES
Our trained team of lawyers provide all kinds of advisory services that will help you take best possible course of action in your situation. We can help you resolve disputes out of court and make sure the damages that you have suffered are properly accounted for through Ombudsman and Legal Notices.
CONSUMER PROTECTION LITIGATION
As the
Best Litigation firm India,
we have robust consumer protection laws to protect and safeguard the rights of consumers. Our experts have vast know how in dealing with consumer laws and will ensure that your rights are enforced in most effective and speedy manner. We are well equipped to file consumer complaints as well as to handle Consumer litigation in District, State and National Consumer forums.
Cybercrime and Privacy issues
Cybercrime and Privacy issues encompass wide ranging activities such as fraud and financial crimes, cyber terrorism, cyber warfare, ., harassment, drug trafficking, phishing, crime against property, loss of privacy, data theft, hacking, sexual exploitation of minors, child pornography, identity theft as well as cyber extortion.
Attestation and Embassy Legalisation of Documents
Legalisation of documents is a process whereby documents are formally authenticated by providing a stamp or a signature from concerned authorities depending upon the document, its origin and further use. In common parlance, legalisation of documents is referred to as attestation and another form of legalisation is apostille which is usually required for international matters. Document legalisation process is complicated and time consuming. The Government guidelines are constantly changing and multiple agencies are involved at one and the same time.
At Knowledgentia, we handle attestation and embassy legalisation of documents of all kinds. We provide our clients with all relevant information, timelines, documents required as well as assist them in smooth legalisation of various documents, making us the best NRI legal service in India.
Attestation is usually done at regional, state, national or international levels. It is provided in the form of stamps and signatures in order to affirm the credibility of any document. It is usually needed for procedures like issuing a citizenship proof, enrolling into a college, visa documentation processes, business and legal affairs of corporates. In India, it is handled by the Ministry of External Affairs (MEA) and the embassy of the respective country as well.
Document attestation is mainly carried out for three kinds of documents namely personal, educational and commercial.
The term Apostille refers to the process of substantiating the authenticity and credibility of the document. When we apostille a document, an apostille sticker or stamp is obtained from authority. It is computer generated with a unique identification number and is applied to the back of the document by an authorised representative of an Embassy or Chamber of Commerce. This kind of attestation is done so that the required documents can be made admissible in any country that belongs to Hague Convention
In 1961, 120 countries signed the Hague Convention to create a simplified method of "legalizing" documents for universal recognition. Apostille is done for personal documents like birth, death, marriage certificates, Affidavits, Power of Attorney, etc. and educational documents like degree, diploma, matriculation and secondary level certificates etc. Any document Apostilled in one member country is acceptable in all the other 120 member-countries of the convention. Countries who are not a part of this convention are required to get the documents legalized first from their respective embassies and thereafter from the Ministry of External affairs of the country where it is being sent for legalisation.
APOSTILLE OF FOREIGN DOCUMENTS IN CASE EMBASSY IS NOT IN THE ORIGIN COUNTRY
In case there is no embassy for attestation of documents in the country where the documents have originated, then the person is required to get the documents notarized from the Ministry of Foreign Affairs of the originating country at the outset. Thereafter, the document needs to be sent to the Country in which the embassy is situated and has the authority and jurisdiction to attest the documents. After getting the documents notarized from the Embassy of the originating country, the document is to be submitted to the Embassy where it needs to be apostilled with applicable fees and Identity proof.
At Knowledgentia, we provide all services relating to attestation and embassy legalisation of documents and assist our clients in smooth and timely authentication of various documents.
Contract Drafting Services
Legal Contract Drafting Services helps in binding two parties legally for a business, and professional associations are safeguarded based on mutually acceptable terms and conditions. As a legal contract is drafted by experts, it benefits both the companies included in agreeing with the terms of the agreement and accomplishing their duties in agreement with the deal. Contract Drafting Services is a favoured choice as it encourages firms and individuals to guarantee that the contract draft includes all the points, is composed professionally and in the right form, and has all the details that are vital for the contract to be authentic.
Knowledgentia is a committed contract drafting service having an in-house team of attorneys with sufficient experience, required qualifications, and expertise in giving numerous legal services. 
Counterfeiting Legal Action
Counterfeit assets or generally described as fake goods, in simplistic words, suggests a copy or imitation of various things. Counterfeiting of goods is growing to become a significant interest for India in the current scenario, as there are various dealers in the land who are trying to sell counterfeited goods. These things are mostly sold at unbelievable prices and mislead the people.
The deal of various Counterfeit goods is also through e-commerce websites, and many such products are also sold in smaller shops or on the streets as street shopping attracts a large number of the young crowd. Due to the same, goodwill & reputation of the brand selling the original product suffers, and brands start losing revenue which leads to irreparable damage to their businesses. This leads companies to take Counterfeiting legal action. The Best IPR law firms in India are there to assist you with the complete process of documentation and registration under IPR.